Transform conversations with your clients about their pet

Thoughtful and beautifully designed visual resources to help you explain a wide range of topics and treatments to pet owners
Impressive 3D anatomical modelling
Simple to use and totally non-intrusive
Quicker and more effective consultations
Higher complaince and revenues
Link elements of the service to your practice web site
As a part of your daily working life as a vet you talk to clients about often complex topics that your listener may know nothing about. Adding their natural anxiety about their pet being ill to the mix and it can be a real challenge to take someone from zero knowledge to making an informed decision in a small window of time.

A picture speaks a thousand words and the impressive library of graphics and animations available within VisioCare Consult allow you to demonstrate exactly what you're talking about to your client. You can be confident that the information is 100% reliable as all content is overseen and reviewed by certified specialists.

It is quick and easy to retrieve the relevant information so interacting with the tool supports rather than intrudes on your consultation. There is no sound track or on-screen text to distract your client - just thoughtful and beautifully designed visual explanations of a wide range of condition specific topics.

Some decisions are difficult to make immediately and often need to be talked through with a partner at home. The service can send the treatment animation via email to the client, so an informed discussion of the options can be had in private after the consultation.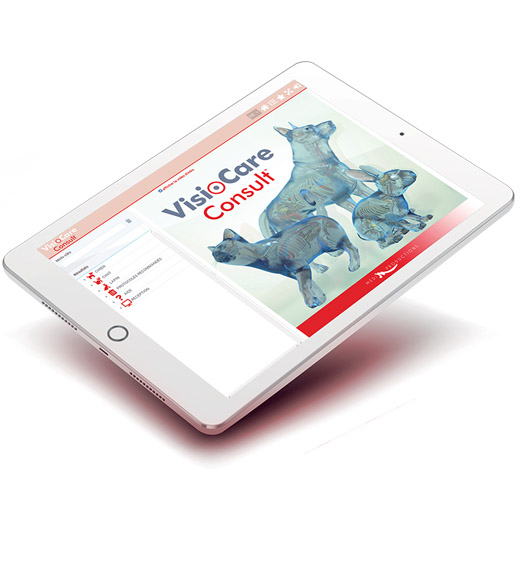 Large library
Includes complete dog, cat and rabbit 3-D anatomical modelling, 1400 3-D animated videos and 200+ images, films scans and radiographs.
Non-intrusive mechanism
It is simple and intuitive to use so you can concentrate on your client whilst using the screen or iPad to reinforce your verbal explanation.
Faster consultations
Improving client communication and education within the exam room facilitates quicker and more effective consultations - so you free up time and become more effective.
Easy to share
With particularly complicated situations your client might need time to think about options and discuss it with others. You can email a link to them so they can easily share the information.
Better compliance
Great-looking, high quality content makes it easy for your clients to understand their pets' health and wellness. This leads to better treatment compliance and ultimately improves outcomes.
Affordable monthly fees
The system is surprisingly affordable and is very quick and easy to set-up. The small monthly fee is far outweighed by the increased client spend and extra practice revenue it will generate.